Martin Kemp – Mario Taddei
The Commonwealth Club of California
Friday, Dec. 2, 2022 | 5:00 PM

Sponsored by Humanities West in association with the Leonardo Da Vinci Society and the Italian Cultural Institute"Five centuries after his death, Leonardo Da Vinci is attracting more attention for his art, his science and his mechanical inventiveness than ever. Humanities West celebrates his continuing cultural contributions with an encore presentation of Leonardo's Legacy, our February 2019 program, again featuring Martin Kemp, London's leading Leonardo scholar, who will treat us this time to his latest research on Leonardo's study of the science of optics and how that study influenced his artistic creations.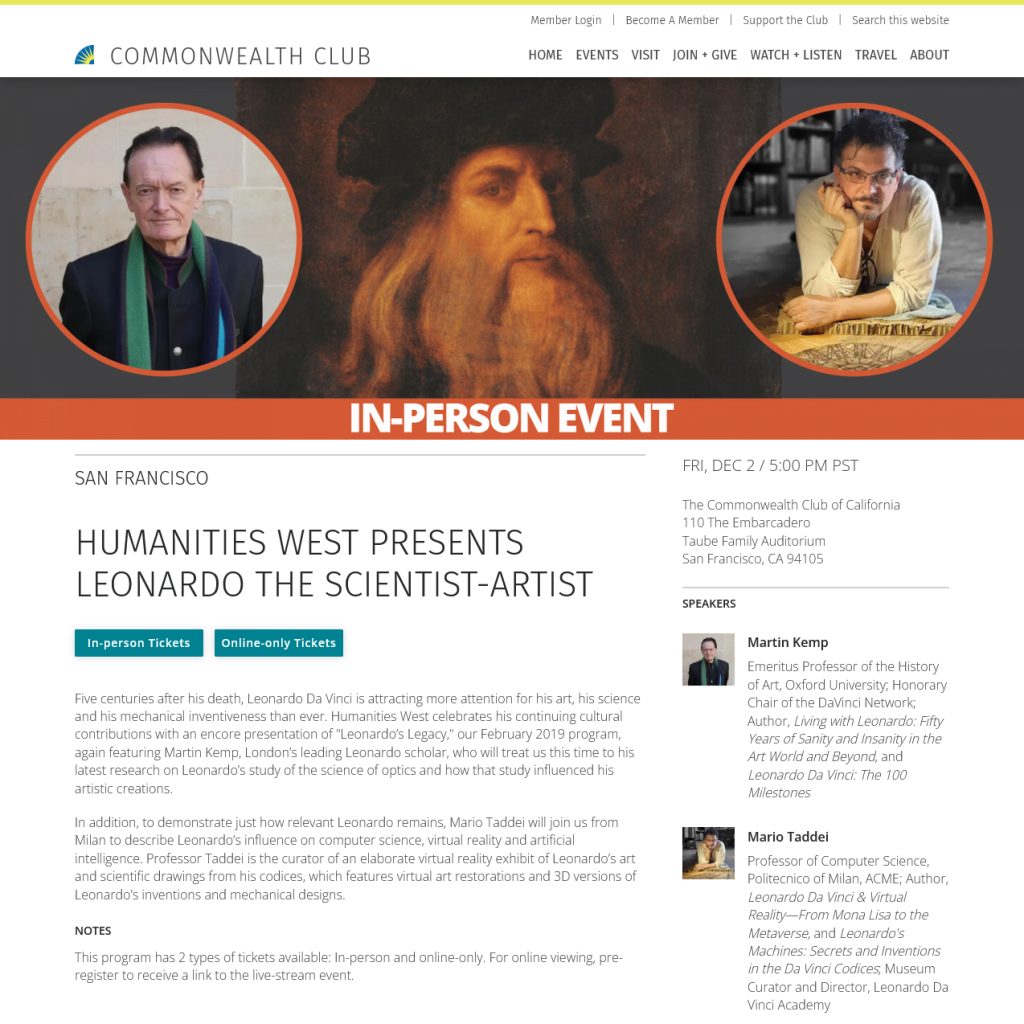 In addition, to demonstrate just how relevant Leonardo remains, Mario Taddei will join us from Milan to describe Leonardo's influence on computer science, virtual reality and artificial intelligence. Professor Taddei is the curator of an elaborate virtual reality exhibit of Leonardo's art and scientific drawings from his codices, which features virtual art restorations and 3D versions of Leonardo's inventions and mechanical designs."


Fri, Dec 2 / 5:00 pm PSTThe Commonwealth Club of California110 The EmbarcaderoTaube Family AuditoriumSan Francisco, CA 94105
31/10/2022 – the event has been postponed to a date to be defined


Martin Kemp
Emeritus Professor of the History of Art, Oxford University; Honorary Chair of the DaVinci Network; Author, Living with Leonardo: Fifty Years of Sanity and Insanity in the Art World and Beyond, and Leonardo Da Vinci: The 100 Milestones
Mario Taddei
Professor of Computer Science, Politecnico of Milan, ACME; Author, Leonardo Da Vinci & Virtual Reality—From Mona Lisa to the Metaverse, and Leonardo's Machines: Secrets and Inventions in the Da Vinci Codices; Museum Curator and Director, Leonardo Da Vinci Academy
George Hammond
Author, Conversations With Socrates—Moderator

https://www.davincisanfrancisco.com
https://www.commonwealthclub.org
https://humanitieswest.net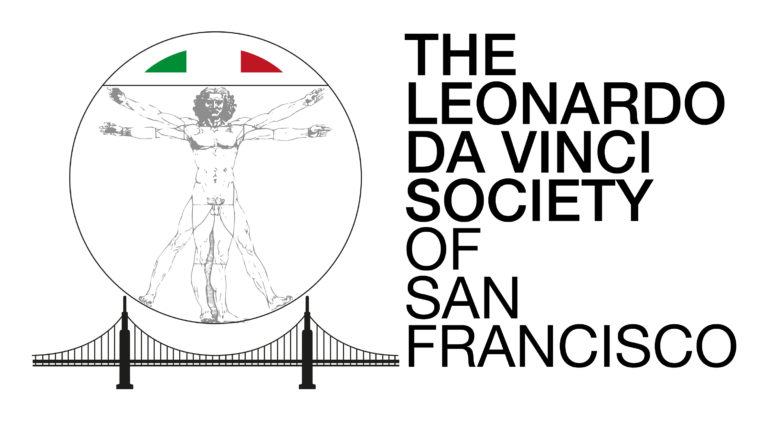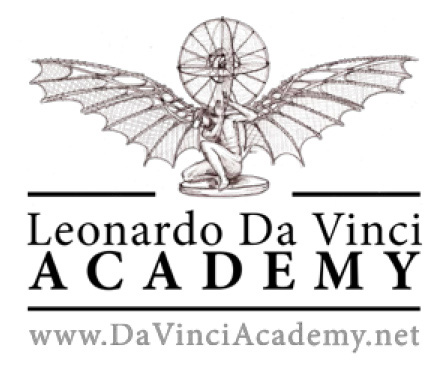 𝐋𝐞𝐨𝐧𝐚𝐫𝐝𝐨 𝐃𝐚 𝐕𝐢𝐧𝐜𝐢 𝐀𝐜𝐚𝐝𝐞𝐦𝐲
Created in 2021 to address the new issues concerning Virtual Reality, Metaverse, NFT, Teaching, STEAM, Publishing, exhibitions and new generation multimedia museums.
Mario Taddei's studies on Leonardo da Vinci since 1999 are the basis of the search for creativity and methodologies for a new academy that deals with the new cutting-edge digital means used in artistic, historical and scientific fields.A new Academy, a "virtual" academy, which teaches and combines Leonardo da Vinci's creativity with modern technologies for the new professions of the future. A multimedia Renaissance workshop for a new "Digital Renaissance".
Computer graphics, design, fashion, virtual reality, science and art courses.STEAM Methodologies – History of the Italian Renaissance & Multimedia. Private courses, accompanied by workshops, exhibitions and multimedia labs, prepare students to create their own future and work in the film, edutainment, video game and nascent Metaverse industries. The training of students on cutting-edge VR, AR and XR technologies with NFT management, gaming design and art history will take shape with exhibitions, products and events, both real and digital, organized by the Academy.

𝐋𝐞𝐨𝐧𝐚𝐫𝐝𝐨 𝐃𝐚 𝐕𝐢𝐧𝐜𝐢 𝐀𝐜𝐚𝐝𝐞𝐦𝐲
Nasce nel 2021 per affrontare le nuove tematiche e le sfide innovative riguardanti ambiti quali: Realtà Virtuale, Metaverso, NFT, Insegnamento, STEAM, Editoria, Mostre e Musei multimediali di nuova generazione.