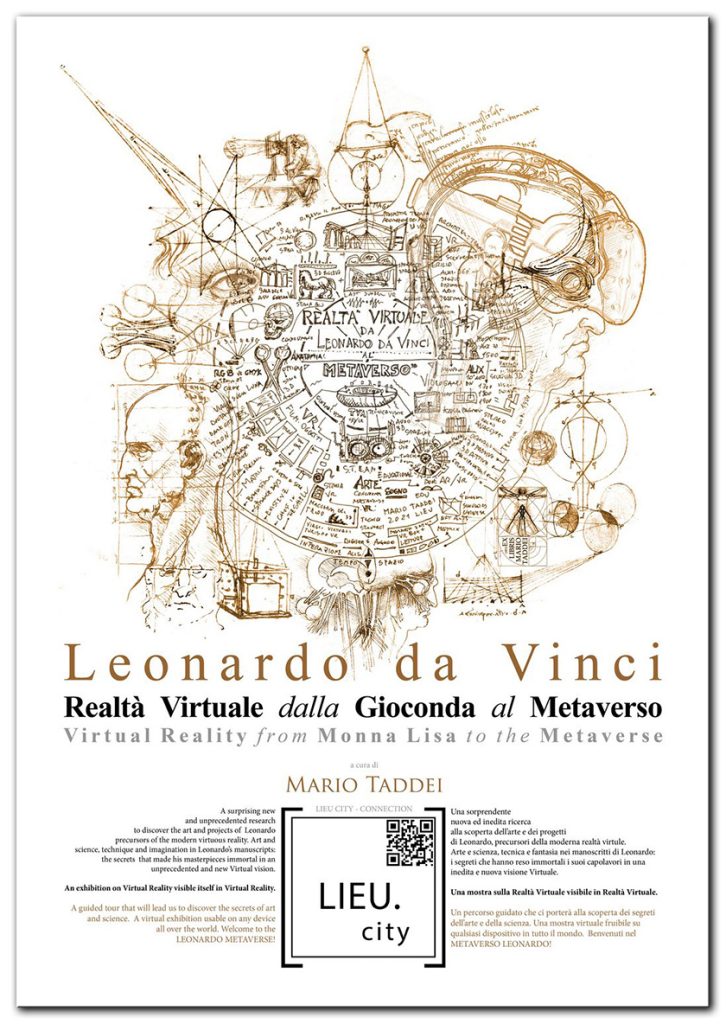 Leonardo da Vinci
Realtà Virtuale dalla Gioconda al Metaverso
Virtual Reality from Monna Lisa to the Metaverse

https://lieu.city/eventi/leonardo-da-vinci/

Una sorprendente
nuova ed inedita ricerca
alla scoperta dell'arte e dei progetti
di Leonardo, precursori della moderna realtà virtuale.
Arte e scienza, tecnica e fantasia nei manoscritti di Leonardo: i segreti che hanno reso immortali i suoi capolavori in una inedita e nuova visione Virtuale.
Una mostra sulla Realtà Virtuale visibile in Realtà Virtuale.
Un percorso guidato che ci porterà alla scoperta dei segreti dell'arte e della scienza. Una mostra virtuale fruibile su qualsiasi dispositivo in tutto il mondo. Benvenuti nel METAVERSO LEONARDO!

A surprising new
and unprecedented research
to discover the art and projects of Leonardo
precursors of the modern virtuous reality. Art and
science, technique and imagination in Leonardo's manuscripts: the secrets that made his masterpieces immortal in an unprecedented and new Virtual vision.

An exhibition on Virtual Reality visible itself in Virtual Reality.

A guided tour that will lead us to discover the secrets of art and science. A virtual exhibition usable on any device
all over the world. Welcome to the
LEONARDO METAVERSE!